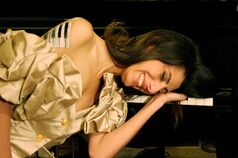 Yasmin Shah is a French-American genre music singer. She has done various concert worldwide and does the songs from LoliRock in the English version.
Biography
Edit
A name that evokes the other side of the world, India but also in North America, South, France, all those places that have seen grow this extraordinary character. Of those pretty interbreeding was born a great artist who decides to finally reveal through some songs. After putting her talent to the service of other artists, she decided to release her first LP now fully composed and written by her. The result is amazing, almost as confusing registers and styles are varied but made exquisitely mastered. A pop reggae backdrop of depilatory cream with Not Cool Enough, a slight anthem musical with Female Let Go, crocodile tears of playing the piano ... Devi Yasmin Shah is a mature style, fragile, funny, unique. We hear in her fingers confirmed pianist Chopin, Debussy, in his feline voice Kate Bush, Tori Amos and soul sadness of a Jazz singer. Yasmin Shah sings of love, grief, envy, hope but also rage ... With disconcerting ease always accompanied by that little grain of humor that makes us so endearing. Not Cool Enough is it is us, it is a hymn that will lead this Yasmin so mysterious to the first step of success, for sure!
Songs she has done (for LoliRock only)
Edit
Ad blocker interference detected!
Wikia is a free-to-use site that makes money from advertising. We have a modified experience for viewers using ad blockers

Wikia is not accessible if you've made further modifications. Remove the custom ad blocker rule(s) and the page will load as expected.